In the world of martial arts, the belt system serves as a symbolic representation of a practitioner's skill and progress. It not only acts as a form of motivation but also signifies a level of mastery and dedication. Let's take a closer look at the belt systems in two different martial arts disciplines.
SJJIF – Belt System
The SJJIF (Sport Jiu-Jitsu International Federation) has its unique belt system that encompasses various levels of proficiency. Starting from the white belt, practitioners progress through the blue, purple, brown, and eventually, the coveted black belt. Each color represents a different stage of mastery and experience.
The white belt is where every practitioner begins their journey. It symbolizes purity, humility, and the foundation of knowledge. As they develop their skills, they gradually climb the ranks, acquiring new techniques and strategies, until they reach the esteemed black belt. It is important to note that the black belt is not the end goal; instead, it represents the beginning of a lifelong commitment to growth and improvement.
History of Belts in Kyokushin Karate
Kyokushin Karate, a style known for its intense training and full-contact sparring, follows a slightly different belt system. The journey begins with the white belt, symbolizing innocence and a blank canvas, ready to absorb knowledge. As practitioners progress, they move through the ranks of yellow, orange, green, blue, brown, and eventually, black.
One unique aspect of the Kyokushin Karate belt system is that it incorporates different colored stripes on belts to represent intermediate stages of progress. For example, a practitioner may earn a blue belt with a white, yellow, or orange stripe, indicating their transition from one level to the next.
It is not uncommon for individuals to spend years honing their skills and perfecting their techniques before reaching the black belt in Kyokushin Karate. This belt is a symbol of the immense dedication, perseverance, and discipline required to master this rigorous martial art.
Both the SJJIF and Kyokushin Karate belt systems emphasize the importance of progression, discipline, and personal growth. They serve as a constant reminder to practitioners that true mastery is not achieved overnight but through years of dedication, practice, and perseverance.
The journey along the path of martial arts is a transformative one. As practitioners progress through the various stages of the belt system, they not only become physically stronger but also develop mental resilience, self-confidence, and humility. Each belt represents a milestone in their journey, reminding them of how far they have come and how far they can go with continued dedication.
Whether it's the SJJIF's belt system in Jiu-Jitsu or the Kyokushin Karate belt system, both exemplify the values and principles that form the foundation of martial arts. So, whether you are a white belt just starting or a seasoned black belt, remember that the belt around your waist is not just a piece of fabric but a symbol of your hard work, perseverance, and dedication to the art of combat.
If you are looking for Rank System – 5 Elements Soo Bahk Do you've came to the right page. We have 9 Pics about Rank System – 5 Elements Soo Bahk Do like Belt Tying Video & Belt System – TRAD AM KARATE, History of Belts In Kyokushin Karate – The Martial Way and also Belt System and Test Requirements – Traditional Global Tang Soo Do. Here you go:
Rank System – 5 Elements Soo Bahk Do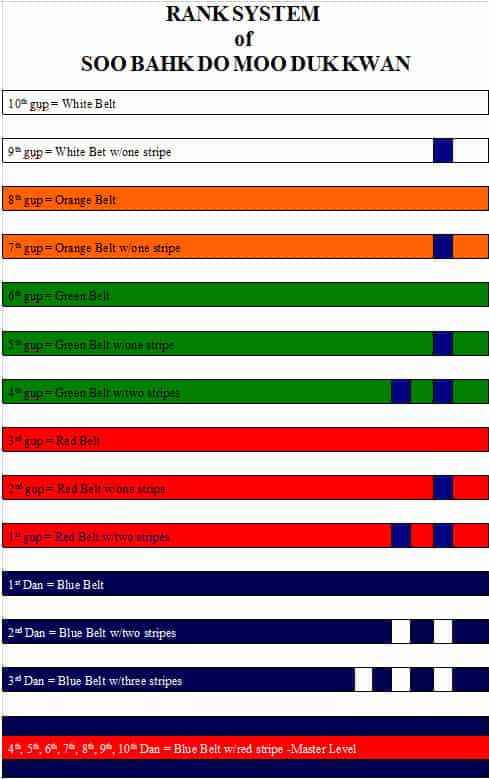 5elementssbd.soobahkdo.org
soo belt tang belts martial arts bahk system rank ranks karate blue korean levels colors academy color hapkido green google
USKF Black Belt Directory – United States Kido Federation
uskido.org
highest
SJJIF – Belt System
sjjif.com
degrees
10 Things & More You Didn't Know About Taekwondo – Oaekpost
www.oaekpost.com
taekwondo oaekpost judo bjj dogi hapkido kimono
Belt System And Test Requirements – Traditional Global Tang Soo Do
tgtsda.com
soo scientifically
History Of Belts In Kyokushin Karate – The Martial Way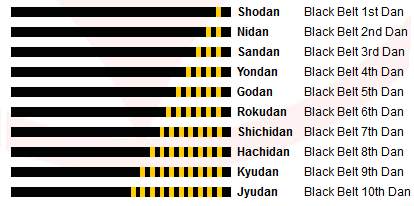 the-martial-way.com
kyokushin karate belts belt dan martial grades red history way high always dojo
What Are The Taekwondo Black Belt Levels? – Tae Kwon Do Nation
www.taekwondonation.com
taekwondo levels kwon tae
How Many Years To Get Jiu Jitsu Black Belt – Jujutsu Kaisen Gallery
jujutsuschool.blogspot.com
jitsu jiu bjj ranks rank fanatics kaisen jujutsu
Belt Tying Video & Belt System – TRAD AM KARATE
www.tradamkarate.com
How many years to get jiu jitsu black belt. Taekwondo oaekpost judo bjj dogi hapkido kimono. Soo belt tang belts martial arts bahk system rank ranks karate blue korean levels colors academy color hapkido green google